New Jersey County Map: Located in the heart of the bustling Northeast Corridor, New Jersey is a state that offers a unique blend of urban and suburban living, with plenty of natural beauty thrown in for good measure. A County Map of New Jersey with Cities provides an overview of the state's 21 counties, including the vibrant cities of Newark, Jersey City, and Trenton. With its rich history, diverse population, and proximity to New York City and Philadelphia, New Jersey a state that truly has something for everyone.
New Jersey County Map
New Jersey, one of the original 13 colonies of the United States, located in the northeastern part of the country. The state divided into 21 counties, each with its own unique culture, history, and attractions. A New Jersey County Map an excellent tool for exploring the state's diverse regions and planning your trip accordingly.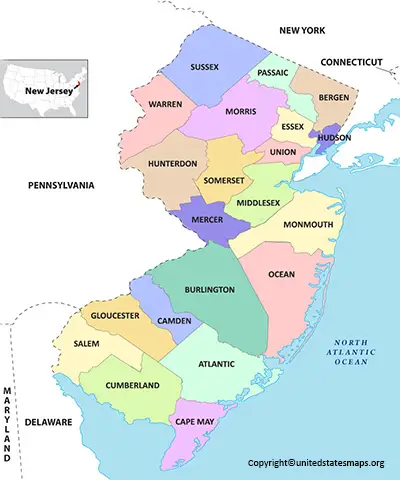 New Jersey a small state with a lot to offer. From the bustling cities of Newark and Camden to the scenic beaches of Cape May and Atlantic City, there something for everyone in this diverse region. To help navigate all that New Jersey has to offer, it's essential to have a reliable map by county. Whether you're a lifelong resident or just passing through, having access to an accurate and detailed New Jersey map can make all the difference.
One of the most significant benefits of using a New Jersey map by county its ability to provide comprehensive information about specific regions. By breaking down areas into their respective counties, it becomes easier for users to find relevant attractions and destinations quickly. For example, if you're interested in exploring some of the state's rich history, such as Revolutionary War sites or Victorian-era homes, you might focus your attention on Monmouth County – home to many historic landmarks.
The counties in New Jersey Atlantic, Bergen, Burlington, Camden, Cape May, Cumberland, Essex, Gloucester, Hudson, Hunterdon, Mercer, Middlesex, Monmouth, Morris, Ocean, Passaic, Salem, Somerset, Sussex, Union, and Warren. Each county has its own seat of government and a range of municipalities, from small towns to large cities. Check out other New Jersey Map:- Blank New Jersey Map.
New Jersey Map with Counties and Cities
State of New Jersey in the northeastern region of the US. It one of the smallest states but has a high population density, making it an important economic hub. The state divided into 21 counties, each with its own unique characteristics and attractions.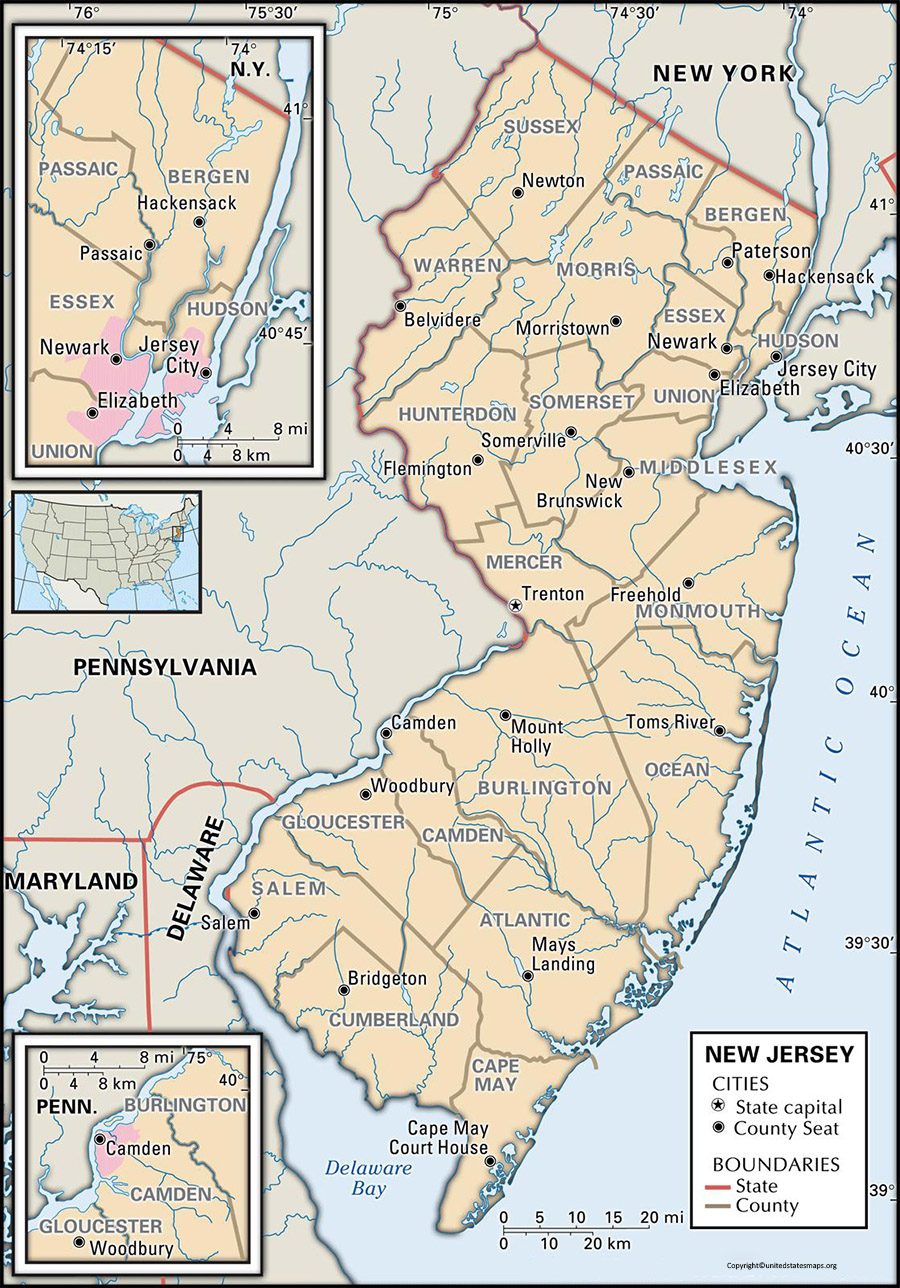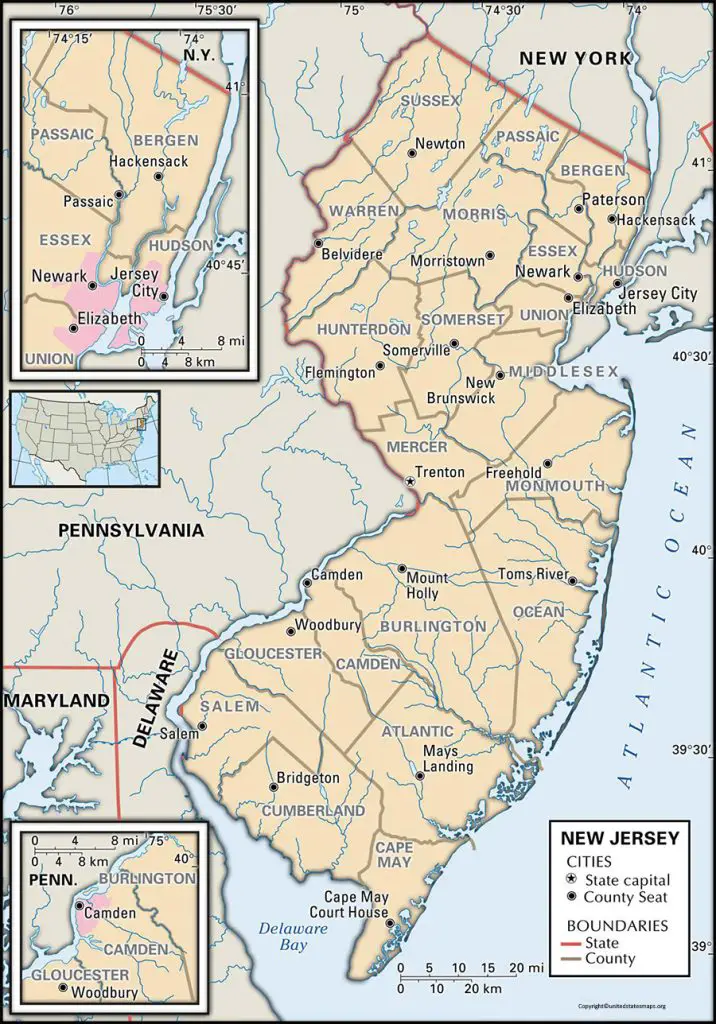 A counties in New Jersey map essential for those who want to explore everything this great state has to offer. From Atlantic County on the eastern coast known for its sandy beaches and boardwalks to Sussex County in the northwest which boasts scenic mountains and lakes, there's something for everyone. Other notable counties include Bergen, home to some of the best shopping malls in the country, Essex where Newark Liberty International Airport is located, and Middlesex which houses Rutgers University- one of America's leading research institutions.
A New Jersey Map with Counties and Cities a comprehensive tool for understanding the state's geography and planning your travels. The map shows the state's 21 counties, major highways, and cities, making it easy to navigate and explore.
The map's counties color-coded, making it easy to distinguish between them. In addition, each county labeled, allowing you to quickly identify its name and location. Major cities, such as Newark, Jersey City, Trenton, and Atlantic City, also indicated on the map, along with smaller towns and municipalities.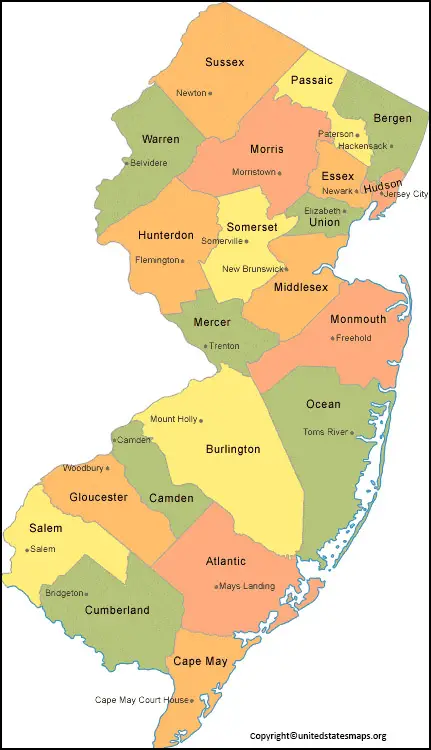 Whether you a resident of New Jersey or a visitor, a map with counties and cities an essential resource for discovering all that the state has to offer.
County Map of New Jersey
A Map of New Jersey Counties an essential tool for anyone looking to explore the state's diverse regions. But the map shows the geographic boundaries of each county, along with its county seat and major municipalities. In addition, it highlights major highways and points of interest within each county.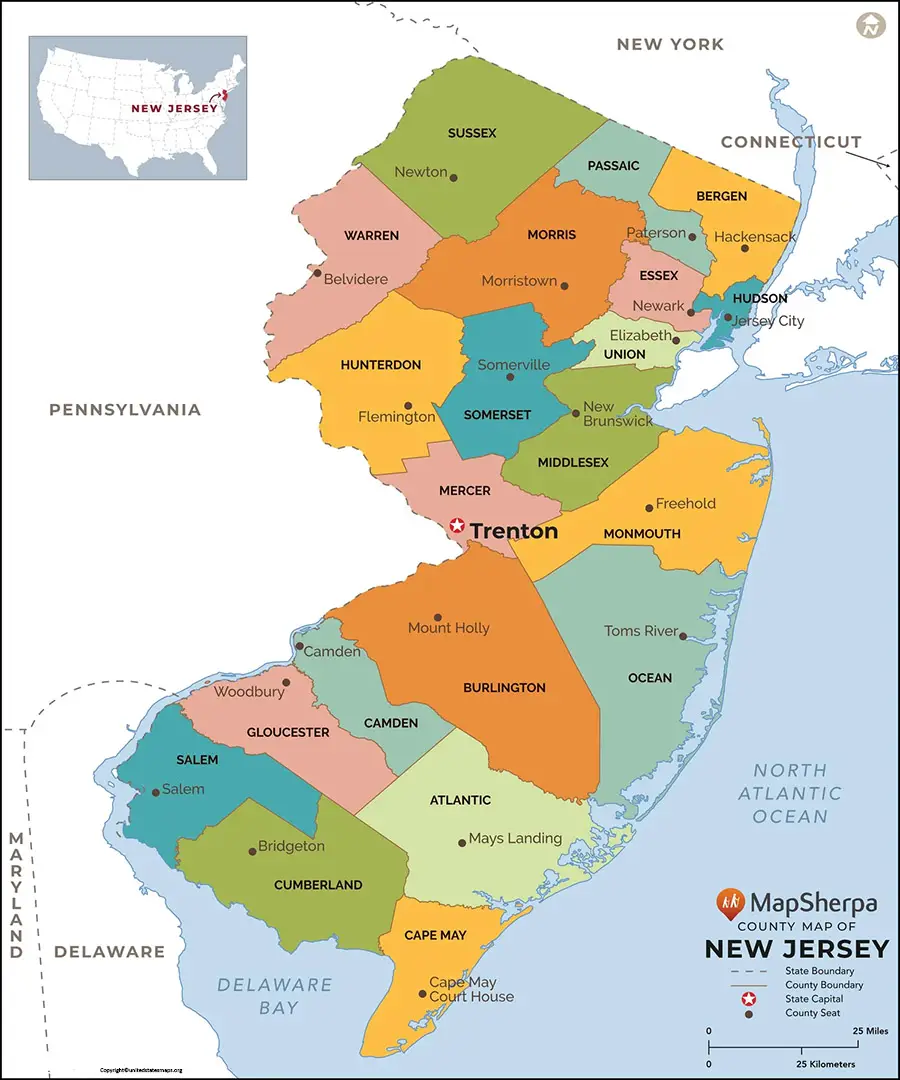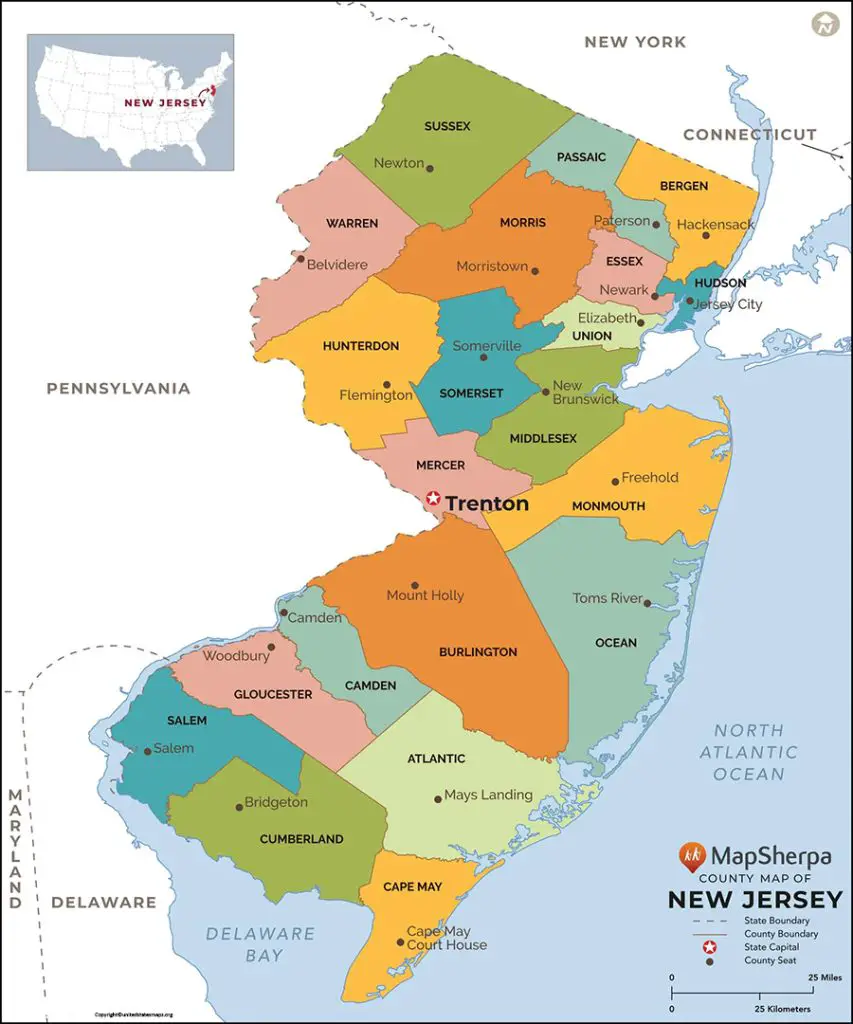 New Jersey's counties offer a wide range of attractions, from Atlantic City's famous boardwalk to the quaint charm of Cape May. A map of the state's counties allows you to plan your trip accordingly and make the most of your time in New Jersey.
A County Map of New Jersey provides an in-depth look at the state's 21 counties and their unique features. But the map highlights each county's geographic boundaries, county seat, and major municipalities. It also includes information on major highways, rivers, and parks within each county.
New Jersey's counties diverse in terms of geography, demographics, and attractions. For example, Atlantic County known for its beaches and casinos, while Hunterdon County famous for its scenic countryside and historic sites. A county map an excellent resource for exploring each of New Jersey's unique regions and discovering all that the state has to offer.